Liberty winter classic
NWAPA WINTERGUARD CHAMPIONSHIP
APRIL 1, 2023
LIBERTY HIGH SCHOOL
7445 ne WAGON DRIVE
Hillsboro, OR 97124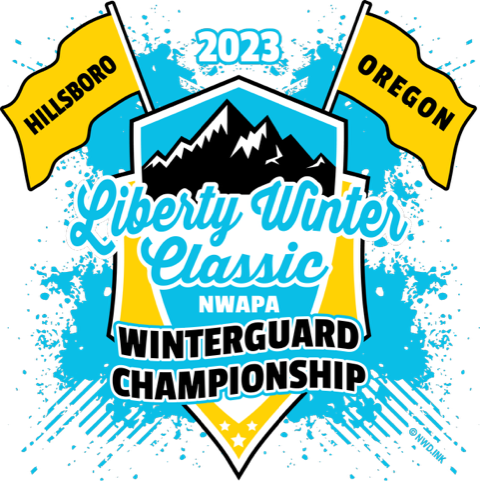 Liberty Winter Classic
Liberty Winter Classic is an annual Winter guard event sanctioned by the Northwest Association for the Performing Arts (NWAPA) and organized by Liberty High School Band Boosters in Hillsboro, Oregon. Liberty Winter Classic began in 2012 and provides a competition opportunity for color guard teams to exhibit their skills and receive feedback from nationally recognized judges.
2023 Participants:
Aloha – Aloha, OR
CASCADIA – GREATER PORTLAND AREA, OR
CENTURY – HILLSBORO, OR
Crater – Central Point, OR
Glencoe JV – Hillsboro, OR
Glencoe Youth Minis – Hillsboro, OR
Glencoe Youth – Hillsboro, OR
gLENCOE – HILLSBORO, OR
Grants Pass Junior – Grants Pass, OR
Grants Pass JV – Grants Pass, OR
Grants Pass – Grants Pass, OR
Kelso – Kelso, WA
Lake Oswego – Lake Oswego, OR
Liberty – Hillsboro, OR
McMinnville – McMinnville, OR
MOUNTAINSIDE – BEAVERTON, OR
Sheldon – Eugene, OR
Sherwood Cadet – Sherwood, OR
SHERWOOD – SHERWOOD, OR
South Albany – Albany, OR
Southridge – Beaverton, OR
Sprague – Salem, OR
St. Helens – St. Helens, OR
Tigard – Tigard, OR
West Salem Cadet – Salem, OR
WEST SALEM – SALEM, OR
WESTVIEW – BEAVERTON, OR
SPECIAL PERFORMANCE BY BEAVERTON STARS
Admission
Adults: $15.00
Students: $12.00
Veterans: $12.00
Children 6 yrs and under: No charge
Parking: No charge
Entrance for spectators
Spectators should use the WEST parking lot, indicated as "Student Parking".
Venue Accessibility
Wheelchair seating areas available.
Concessions
Snacks, hot dogs and beverages are available for purchase.
Outside food and beverages are not allowed in event space.
Local restaurants nearby.
Photographs
The event is photographed by Open Your Eyes Visuals. You can print, download and shop online at www.openyour.is.
APRIL 1, 2023
LIBERTY HIGH SCHOOL
7445 ne WAGON DRIVE
Hillsboro, OR 97124
Copyright 2023. Liberty Band Boosters.